Confronting Police Violence in the Bronx
Submitted by bajin on Wed, 02/15/2012 - 17:30.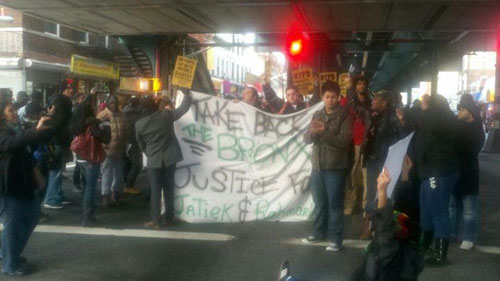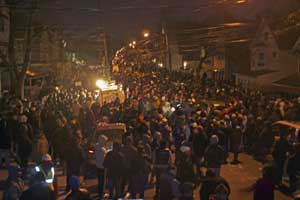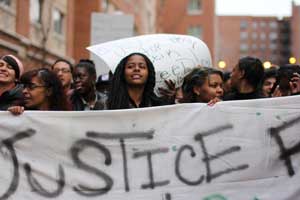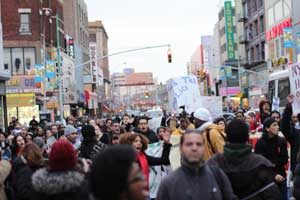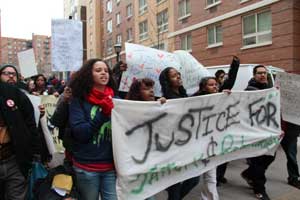 In the Bronx, a recent wave of police violence has prompted a string of mobilizations in different parts of the borough.
On January 26th, cops approached 19-year-old Jateik Reed while he was hanging on his block with his friends, and proceeded to beat him viciously with fists and clubs. The incident was caught on video by one of Jateik's friends, who was chased down the block as officers threatened to mace him. Jateik was booked on false charges, and when his parents went to the local precinct to demand information, they too were arrested and charged with "disorderly conduct."
Video of the incident hit the internet just days after a the Stop Stop & Frisk campaign held a march to the same precinct where the officers who beat Jateik were stationed. Take Back the Bronx (formerly Occupy the Bronx) and members of Bring the Ruckus followed Jateik's case in the days following, fielding people to court support and organizing a march through the South Bronx against police violence. But even before the action could take place, cops shot and killed an unarmed black youth sixty blocks to the north.
On February 2nd, narcotics officers murdered 18-year-old Ramarley Graham in his own home, after entering through a backdoor while not in hot pursuit. Graham was gunned him down in front of his grandmother and little brother in his bathroom, as he frantically attempted to flush a bag of weed. Response to Graham's murder was swift and furious, including a rally the night of the murder organized by the Stop Stop & Frisk campaign, and another large rally in the days following. Two marches organized by Take Back the Bronx followed this chain of events, with videos below.
The first march in the South Bronx piggybacked off a press conference called by local politicians. Participants hit the 42nd precinct, took the streets and blocked a 6-way intersection in a commercial center, blocked cop cars at a nearby public housing police station, and closed with a rally on Jateik Reed's block with his friends and family.
In the days following, Jateik's family secured the head of the National Lawyer's Guild as their legal representation, gathered donations to bail him out of Rikers, and are now calling for a special investigator to look into his case.
A second march took place the following weekend in Ramarley Graham's neighborhood. Participants held a roving speakout which again took the streets, blocked intersections, confronted officers from the 47th precinct, and closed with a moment of silence outside Graham's home with his family.