West Coast Port Shutdown A Big Success
Submitted by bajin on Tue, 12/13/2011 - 04:27.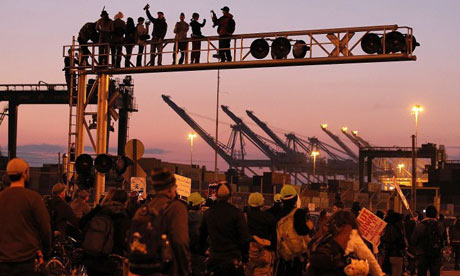 On December 12, 2011 coordinated action by the Occupy movement resulted in the full or partial shutdown of Ports along the Pacific Rim, including Oakland, Long Beach, San Diego, Houston, Portland,
Seattle, Tacoma, Vancouver and Anchorage--as well as the Port of Maui and the major inland river Port of Hueneme.
In the Ports where actual stoppage occurred, longshore workers refused to cross community picket lines and truckers didn't show up to work. Port truckers, who are not unionized and cannot legally unionize in most cases, issued a national open letter of thanks to the movement for taking action. 26 truckers had recently been fired in LA for wearing Teamster T-shirts; the initial inspiration for the West Coast blockade had come from short-haul truckers who planned to stop work on the feast day of Our Lady of Guadalupe - December 12th.
In Oakland, protesters successfully shut down multiple shifts at the port, maintaining pickets outside the port for nearly 24 hours. In the evening, a 5,000-person General Assembly voted to maintain the blockade at the Port until 3 a.m. in response to police attacks in Houston, Seattle and elsewhere:
The call for the blockade and the successful shutdown has provoked intense debate on a number of levels. In Oakland, members of the city council introduced emergency legislation to ban future actions at them Port. Within the organized and un-organized working class, the Occupy move has drawn attention to the divide between elected International leadership and the rank-and-file in U.S. unions; the question of who will lead workers during this crisis and where has now been raised. Within Occupy, the action has been the first major national response to the coordinated attack on the camps in the last month. The port shutdown actions have set a direction for a movement that will have to develop and choose between strategies--if it is to survive into the new year.
Protests also received coverage in international outlets and the domestic mainstream media:
And, in a bizarre turn of events, police deployed an orange tent over protesters blocking the port of Houston, in order to execute their arrests out of view of news cameras: